(August 16, 1868 – October 12, 1955)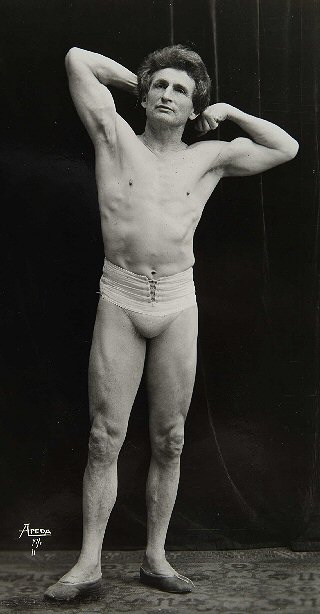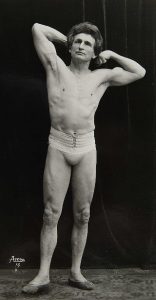 In his biography, Mr. America, Mark Adams was probably accurate when he wrote, "Dansville is surely the only town in America where most of the residents recognize the name Bernarr Macfadden."  He goes on to call Macfadden "arguably the most influential figure in the history of this nation's love-hate relationship with exercise."  In addition to our own Hall of Fame, Macfadden is also ensconced in the National Fitness Hall of Fame, Along such names as Charles Atlas, Jack Lelanne, and John Harvey Kellogg.
Bernard McFadden (his birth name, which he would "edit" later in life) was born in Missouri to parents who both died when he was young; he spent most of his unhappy childhood being passed back and forth between uncaring relatives. As a teenager, he discovered bodybuilding, which led to an early career as a barnstorming professional wrestler.
Embracing physical fitness, or "physical culture" as it was also known, Macfadden relocated to New York City where he developed a new style of cord-and-pulley exercise machine called the Macfadden Exerciser.  Partly as a means of promoting his device, in 1899 he launched a modest periodical called Physical Culture.
The magazine was an immediate success, no doubt due in large part to the photographs of health-looking men and women wearing as little as the publisher could get away with.  In no time, Macfadden had become one of America's leading health experts;  his ideas on proper diet largely echoed those of fellow DAHS Hall of Famer James Caleb Jackson, Macfadden would be a constant nemesis of the medical establishment which disagreed with him on a number of health issues (Macfadden, for example, was firmly against vaccination).
But the event that catapulted him into the upper echelon of publishing moguls was the introduction, in 1919, of True Story, the first of the "confessional" magazines that proliferated in the mid-20th century. Reaching a circulation of over two million within a decade, True Story made Macfadden a millionaire and allowed him to spread his wings in ventures ranging from movies and radio to restaurants and hotels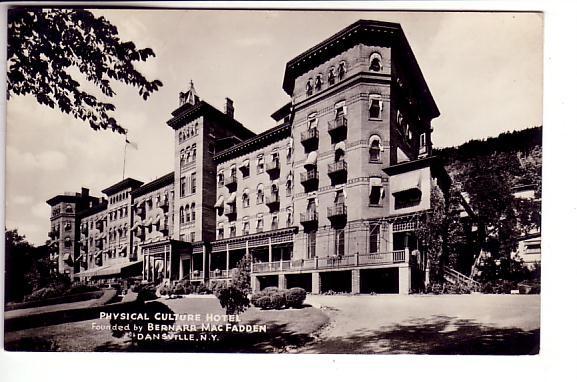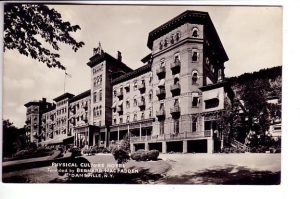 His association with Dansville began in 1929 when he purchased the old Jackson Sanatorium building, which had fallen on hard times since the Jackson family abandoned it in 1917. He rechristened it the Physical Culture Hotel and put the full force of the Macfadden publicity machine behind its revival. Under his ownership, the "P.C." would enjoy a level of popularity that would rival the Jackson-era golden years, despite the economic ravages of the great Depression. It would be the crown jewel of Macfadden's holdings and was the focal point of some of his most famous publicity stunts, including his series of "cracked wheat derby" walkathons of the late 1930's, in which he, and dozens of cereal-eating devotees, walked from New York City (or Philadelphia, or Cleveland, depending on the year) to Dansville, with the press following every step of the way. And in 1949, to celebrate his 81st birthday, he undertook his first parachute jump over the Dansville valley.
Late in life, personal financial reversals would result in the loss of most of his holding, but he would retain possession of his beloved Physical Culture Hotel up to his death in 1955 at the age of 87.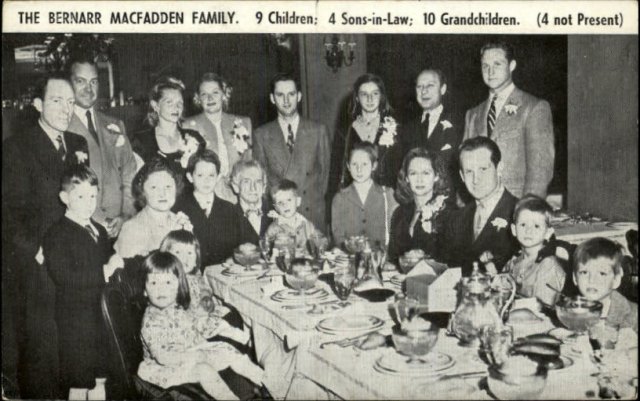 Grave Marker