(March 28, 1811 – July 11, 1895)
Inducted 1989
Of the twenty current inductees of the Dansville Hall of Fame, only one, Clara Barton, can be said to be a household name.  Two others, though, James Caleb Jackson and Bernarr Macfadden, enjoyed a fair amount of national renown in their respective times; and both had connections to Dansville, through the building commonly referred to as the "Castle on the Hill."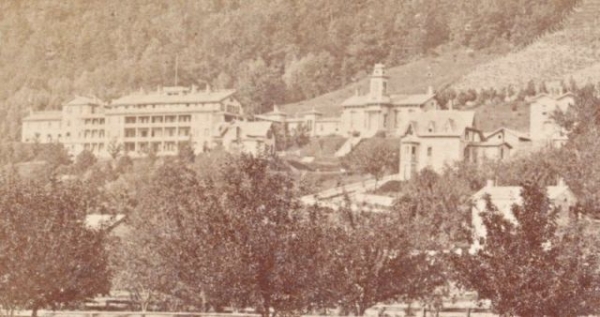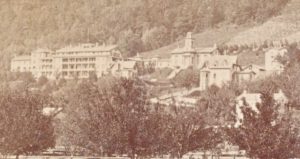 James Caleb Jackson was born in Manilus, NY in 1811, and was 47 years old when he first came to Dansville, to take over operations of a water cure facility that had frustrated the efforts of three previous ownership.  By the time, Jackson…who, in his early years, had made a name for himself as an abolitionist orator and publisher…had embraced the cause of hydropathy (a.k.a. "the water cure." a form of 19th-century alternative medicine centered around the use of clean, pure water to cleanse the body of impurities), having himself undergone hydropathic treatments to bolster his frail health.  His previous institution, the Glen Haven Water Cure in Cayuga County, had enjoyed several years of success before it was destroyed in a fire; and he had obtained a medical degree from Syracuse Central Medical College in 1850.
Once in Dansville, in 1858, he wasted no time turning "Our Home On The Hillside," as he rechristened the facility, into one of the most successful and famous medical institutions in the country. For about two decades, he would serve as chief physician, dispensing his medical wisdom (his "Laws of Life") both orally and in numerous publications. Nutrition formed a major part of his beliefs; and to that end, he invented a graham cracker-derived breakfast food that he had named "Granula". It seems that he may have started his experimenting during his time at Glen Haven, he didn't perfect it until 1863 after he came to Dansville and found the unequalled white winter wheat of the Genesee Valley. Although not a "ready-to-eat" cereal in the modern sense, ..it had to be soaked in milk for at least 20 minutes, and preferably overnight…it was considered convenient over cooked cereals. It was, in fact, the first cold breakfast cereal, and the beginning of a national industry. It was the precursor to corn flakes, shredded wheat, the somewhat similar Grape Nuts, and the myriad other varieties of cereal that we eat today.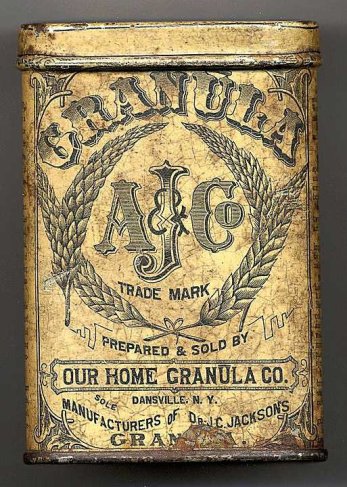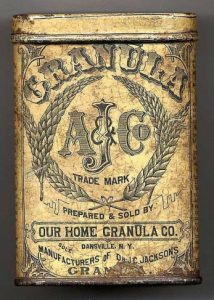 Granula became popular far beyond village boundaries, and Our Home's kitchens were hard-pressed to keep up with demand (at 20 cents a pound, it was economical, to boot). At its peak of popularity in the 1880's, before the Battle Creek cereals over- whelmed the marketplace, as much as 60,000 pounds per year were produced.
In 1878 the soon-to-be-famous Dr. John Harvey Kellogg came from Battle Creek, Michigan, to study the methods at Our Home On The Hillside. He was interested in Dr. James Caleb Jackson's regimen of rest, fresh air, exercise, and simple diet…not to mention Dr. Jackson's invention, the breakfast cereal Granula, which would make a particularly significant impression on Dr. Kellogg.
From: Dansville 1789-1902 edited by A. O. Bunnell
The virtues or Granula have made it so popular that various imitations of its name and properties have ben attempted, but everyone of them is inferior, both in taste and quality, and should be discarded whenever Granula can be obtained, which may always be distinguished in the package be its trade mark.Granula remains and will remain the superior food, and it is one of the distinctions of Dansville that it was perfected here and continues to be made here.
After his retirement in 1879, the baton was passed on to his son, Dr. James H. Jackson (another Hall of Famer), and eventually he retired to North Adams, Massachusetts.  But much of what he had taught would be espoused by future generation of nutritionists (including Bernarr Macfadden).  And of course, the most famous recipient of his treatment, Clara Barton, often claimed that the Jackson Health Resort had saved her life, and allowed her to carry on with her life's mission.
James Caleb Jackson The Author:
Grave Marker