Originally, this town composed all the territory that is now Dansville, Fremont, Wayland and portions of Howard and Cohocton. It was one of the original towns of the county, formed in March, 1796, and was named from Daniel P. Faulkner, an early and spirited citizen familiarly known as Captain Dan. Parts of Cohocton and Howard were taken off in 1812, a part of Wayland in 1848, and of Fremont in 1854. A portion was also annexed to Sparta in 1822, and a part of Cohocton was reannexed April 26, 1834. Reduced to its present limits, Dansville contains 30,000 acres of land. The surface is chiefly upland divided into ridges by the narrow valleys of small streams. The declivities of the hills are steep and their summits are 300 to 400 feet above the valleys. The streams are the head branches of Canaseraga Creek, flowing north, and of Canisteo River, flowing south. The soil is a sandy and gravelly loam in the east and north, and gravel underlaid by hardpan in the southwest part of the town.
Notwithstanding the fact that the early settlement of this town was much delayed by reason of the uninviting character of the land, it appears that when once begun the population increased rapidly, and in 1812 there were 666 inhabitants in the district. There seems also to have been made a mistake regarding the fertility of the land in this region as later years and persistent effort developed the fact that Dansville possessed natural resources almost equal to any portion of the county. Today, as a potato producing section it leads all others in this part of the State; and William C. Healey is one of the most extensive farmers and growers.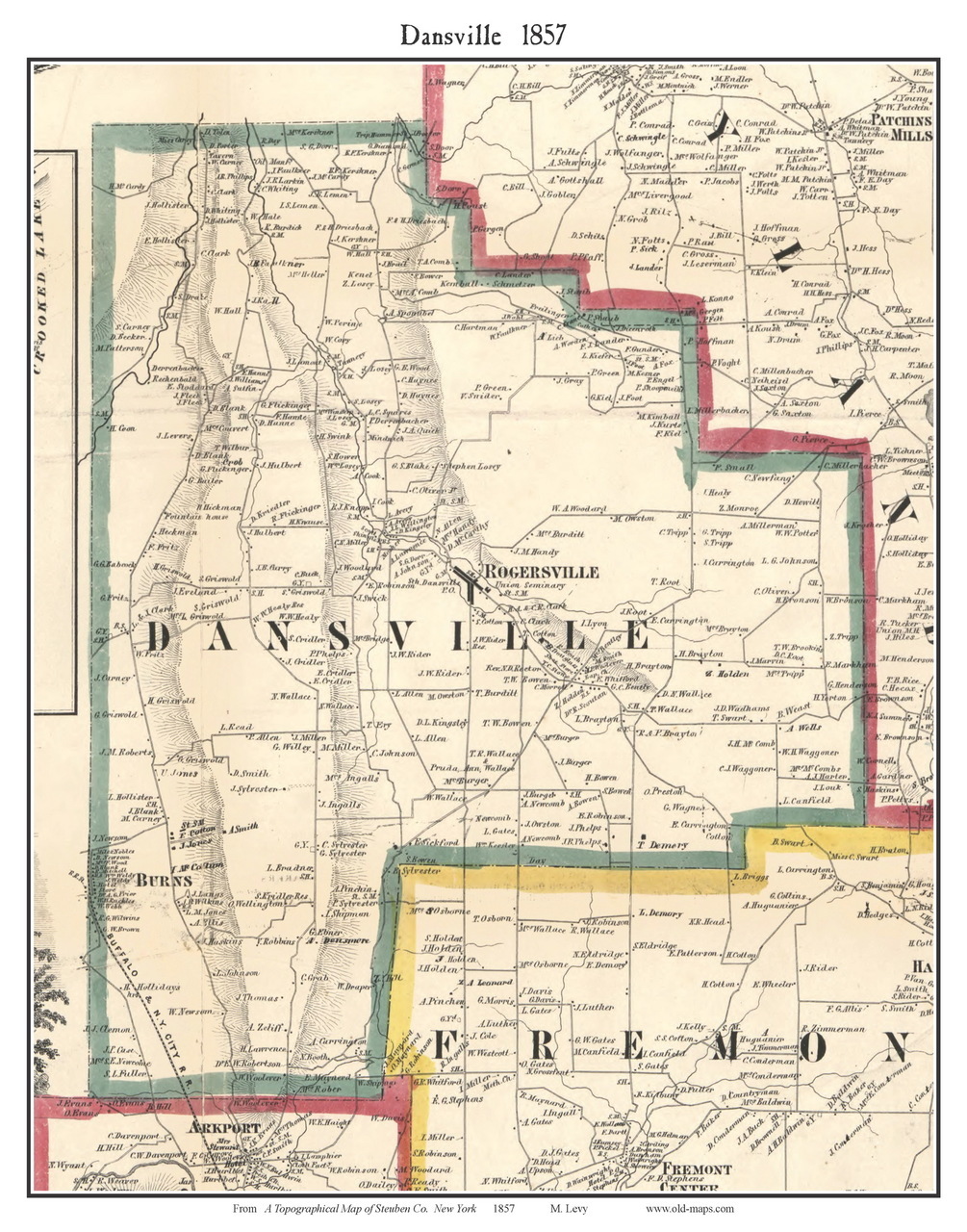 In proof of this statement we may quote from the words of a writer of local history in 1812, as follows: "This is an excellent tract of land, well and variously timbered, and the soil is various though commonly good for a rich farming country. There is a large marsh in the west part, and Loon Pond, near the center, is about one mile broad. There are three grain mills, four or five saw mills, an oil mill, paper mill, fulling mill, and a carding machine." Speaking of the locality of Dansville village, the same writer says: "The valley embracing this settlement contains 3,000 acres of choice lands and the soil is warm and productile. There is a road from Bath to Dansville that leads diagonally across the center of this town, and another between Dansville and Ontario county leads across the northern part." At about this time there were 100 taxable inhabitants in the town.
The pioneers of Dansville were Isaac Sterling and Samuel Gilson (some authorities say Gibson) who made a settlement about a half mile east of Burn's Station in the year 1804. These settlers were followed very soon afterward by James, John and Major Jones, Frederick Fry, William Young, Thomas and Nathaniel Brayton, Tisdale Haskin, Thomas and John Root, Joshua Healey, Charles Oliver, Joseph Phelps, Elisha Robinson, William C. Rogers, Jesse Bridge, Josiah Pond, Joseph Cobb, Martin Smith, Newman Bell, Putnam Rich, better known as Put. Rich, Judge David Demeree, Jehial, Gross and James Gates, Arad Sheldon, Silas Brookins, Isaiah Goodno and Venare Cook. The settlers were principally Vermonters from Addison and Rutland counties, from the old towns of Pittsford, Benson, Orwell, Shoreham, and Salisbury. They were descendants of Green Mountain stock and left their homes in that rich locality for an uncertain future in an undeveloped country. However, as Vermonters, they were men of great determination and by their efforts early succeeded in placing Dansville among the first towns in Steuben county.
As early as 1806 pioneer Isaac Sterling opened a public house on the old Arkport and Dansville road, and as this was a much traveled highway it is said that within a very few years there was a tavern at every mile on the road, and .the woods were alive with noisy oxteamsters who hauled staves to Arkport, from which point they were boated down the Canisteo to market. Indeed settlement must have been rapid for in 1811 James Jones opened a school not far from Doty's Corners. Rufus Fuller built a saw mill in 1816, and four years later built a gristmill and another saw mill, taking the stones from Oak Hill. The grist mill was carried away by high water about 1823. The settlement by the Vermont colony was begun in 1815 and continued for the next five years at which latter time pioneership ceased, as the population in 1820 was 1,565.
However, among the other pioneers and early settlers we may mention the names of Osgood Carleton, 1815, Jesse Churchill, tavern keeper in 1816, Timothy Atwood, surveyor and school teacher, William S. Lemon, whose son James P., born March, 1816, was the first white child born in the town. Chauncey Day settled in 1816. The locality known as Sandy Hill was settled principally by Germans, among whom Alexander Leib, John Hayt, Alexander Green and Jacob Kurtz, seen. and jr., were the first corners. The patriarch of this locality was John Brail, whom every one knew as "Grandpap Brail." He came to Dansville in 1817. Among the early German families in this locality were the surnames of Bolinger, Rider, Kersh and Schu. On Oak Hill a settlement was made in 1816-17 by Moses Hulbert, Joshua Williams, Daniel, George and Hubbard Griswold, William C. Rogers, Thomas Buck, George Butler and Joshua Woodward. One of the first marriages in the town, June 16, 1818, was that of Cyril Buck and Philena Hall. Dr. Thomas M. Bowen settled east of Beachville in 1819 and was an early postmaster at South Dansville. Eli Carrington, Timothy, Nathaniel and Meyer Wallace, Vermonters, joined the settlement in 182o. Here Arad Sheldon opened a tavern, and the place soon became a business center. It was named Beachville, after Aaron, Robert and John Beach, brothers, who were prominent tavern and store keepers.
With settlement thus rapidly accomplished, Dansville early became an important division of the county. Its greatest population was attained in 1840, the inhabitants then numbering 2,725. However, by subsequent reductions in its territory, and the natural decline in population and interest noticeable in nearly all purely agricultural towns, Dansville has a population, according to the enumeration of 1892, of only 1,544
The organization of Dansville was effected on April 4, 1797, at which time the town contained its original area, and before any reductions to its territory had been made. At that time the population could not have numbered more than 200 inhabitants. The meeting was held in the village of Dansville at the house of Samuel Faulkner, at which time James Faulkner and Isaac Van Deventer were elected overseers of highways, and David Fuller, collector. The first records of the town are somewhat obscure and imperfect, yet we know that in 1799 Daniel P. Faulkner was elected supervisor, James Hooker, town clerk, and Alexander Fullerton, William Porter and John Phoenix, assessors. The first justices, who of course at the time were appointed, were Isaac Van Deventer, 1807, Jonas Cleland, 1809, Stephen Haight, 181o, and John Metcalfe, 1811.
The town officers for the year 1895 are as follows: Lorenzo Hulbert, supervisor; C. C. Wood, town clerk; L. K. Robinson, D. G. Haynes, Philip Webb and C. Byron Wallace, justices of the peace; D. H. Griswold, Alexander Smart and Wendell Gessner, assessors; Valentine Weber, collector; Daniel Eveland, highway commissioner; John C. Grobe, overseer of the poor; John Haight, Peter Schubmehl and Charles O. Currey, excise commissioners.
The supervisors of Dansville, in succession, have been as follows: Daniel P. Faulkner, 1799; Alexander Fullerton, 1799, to fill vacancy; Jacob Van Deventer, 800; Amariah Hammond, 1800, to fill vacancy; Samuel Faulkner, 1801; Amariah Hammond, 1802-06; Richard W. Porter, 1807-08; Jared Irwin, 1808, to fill vacancy; Samuel Cuthbert-son, 1809; Jared Irwin, 181o; Jonathan Rowley. 1811-12; Wm. B. Rochester, 1813; Thomas McWharton, 1813-15; James Faulkner, 1816-18; Joshua Healey, 1819 and 1811-12; James Faulkner, 1820; Charles Oliver, 1827-32; Nathaniel Brayton, 1833; Aaron W. Beach, 1834-36; Joel Carrington, 1837-39; Timothy Wallace, 1840-42; Joshua Healey, 1843; Charles Oliver, 1844 and 1847-48; Leeds Allen, 1845- 46; Joel Carrington, 1849-50, and 1854; Luther White, 1851-53 Wm. W. Healey, 1855, '58 and '6o; Eli Carrington, 856-57; Wm. A. Woodard, 1859; Chas. S. Ackley, 1861-62; Wm. W. Healey, 1863; Dyer L. Kingsley, 1864-68; Benj F. Kershner, 1869; Warren Wallace, 1870-71; Fred. M. Kreidler, 1872; Morgan H. Carney, 1873-74; Lewellyn S. Healey, 1875-76; Chas Oliver, 1877-8o; D. Campbell, 1881; J. McWoolever, 1882-83; Morgan L. Miller, 1884; Peter S. Pealer, 1885-86; C. M. Ackley, 1887-89; C. S. Kreidler. 1890-91; Lorenzo Hurlburt, 1892; Ira G. Day, 1893; Lorenzo Hurlburt, 1894-95. From first to last, the social and industrial history of Dansville has been rich and interesting, although during the last thirty years there has been witnessed a gradual decline in population in the town. The first important event in local annals was the anti rent conflict, in which the people felt a deep anxiety, for their interests were greatly affected by the distress prevailing at that time throughout the region. In the measures for relief the leading men were actively engaged, and in the Bath convention of January, 1830, the town was represented by Thomas M. Brown, Peter Covert, Annis Newcomb, Leeds Allen and Martin Smith. However, this disturbing period had hardly passed before there was visited upon the people here the dreadful cholera scourge of 1834, as a result of which many persons in the town met premature death. Nothing further of a serious nature took place to disturb the serenity of town affairs and progress until the outbreak of the war of 1861-5, during which period the patriotism and loyalty of Dansville were tested and found true. Many of the brave sons of the town were enlisted among the volunteer regiments of the county, and several still sleep in southern graves.
Due care and attention have also been given to the spiritual and educational welfare of the youth of the town, and during the period of its history no less than five church societies have been organized and edifices provided for religious worship. In 1811 James Jones opened a primitive school in the town, although several years passed before districts were formed and schools provided for each. However, at a much later period, two academic institutions were founded at Rogersville, the principal village of the town, and from that time Dansville occupied a front rank among the educational localities of the entire region. As at present disposed. the town is divided into fourteen districts, each of which is provided with a comfortable school house. During the school year 1893-4, fourteen teachers were employed, and 357 children were in attendance. The value of school property in the town is estimated at $6,000. The town received of public moneys, $1,610.83, and raised by tax, $1,701.94. Fourteen trees were planted in 1893.
Among the religious societies- of this town which have passed out of active existence, we may mention the Evangelical church, organized in the German settlement on Oak Hill in 1863, and also the Catholic mission, established in the same locality as early as 1834. A Baptist society was also formed in Dansville about 1820, but this, too, is among the things of the past.
Dansville was originally part of the Seneca Indian Nation Territory
The valley was first settled in the early 1790's
Dansville's waterways dictated the first industries
In the 1840's, the Dansville branch of the Genesee Valley Canal was completed, causing the population to double
In 1854, a large section of Main Street was damaged by fire
Dr. James Caleb Jackson founded a "water-cure" facility on East Hill called "Our Home on the Hillside."
The 1870's and 1880's brought our first railroad, the first water system, the first school and the first library
In 1881, Clara Barton established the first chapter of the American Red Cross
In 1919, Lynne Pickard selected a 50-acre parcel of land on Maple Street and developed what would eventually become the Dansville Municipal Airport
During the 1920's and 1930's the Dansville Star Theater opened as a silent movie house and a live-vaudevillian theater, Dansville General Hospital opened, Foster Wheeler Corporation was created, and Thomas P. Reilly invented Ra-Pid-Gro plant food
Publisher Bernarr MacFadden took over Dr. Jackson's "water-cure" facility and operated the facility as a health resort for the rich, famous, and influential
World War II activity increased airport usage and prompted equipment upgrades of the facility
Postwar Dansville was marked by the inception of more service organizations and a greater sense of community unity
In the 1950's, the Dansville School District centralized and added facilities
The late 1960's and early 1970's brought the first annual Dogwood Festival and Oktoberfest
Local industry expands: Forbes Products opened, Nicholas H. Noyes Memorial Hospital was built, WDNY Radio went on air, and Interstate 390 was completed
Thomas P. Reilly Memorial Medical Arts Building began services in the early 1980's and the 'old' hospital was converted into a senior living complex
The Department of Transportation completed a Main Street Renovation Project in 2000, assisting business district enhancement initiatives