(August 16, 1907 – February 12, 1992)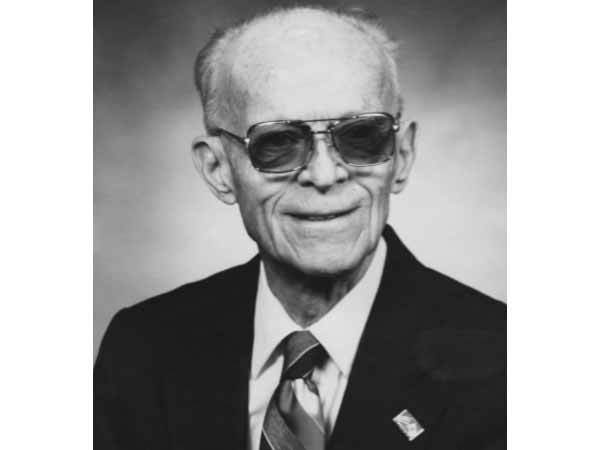 Inducted 1988
Of the twenty men and women who have been inducted into the Dansville Area Historical Society's Dansville Hall of Fame, two of them were still alive when they received the honor. When "Wutz" Rauber was informed of selection back in 1988, he replied with a letter to the Historical Society expressing his appreciation. He also mentioned the other inductees, many of whom were personal acquaintances:
"Treasured memories include boyhood visits with Asa O. Bunnell on the veranda of that beautiful home he had christened "Top Col."  On at least two such occasions, we shared grapes I had picked, without permission, from the nearby vineyard of John Michel.  Mr. Bunnell's snow -white mustache had a purple fringe when he informed me that all fruit tasted sweeter when acquired 'extemporaneously.'
"There were pleasant chats with Mr. Owen on the lakeside lawn of his summer home at Cottonwood Point which jutted into Conesus Lake. Reference to his nickname "F.A."  brought a smile and nod of acceptance. Nevertheless, this young visitor chose to address him as "Mr. Owen." The dignity of this man and his scholarly attitude, softening by an ability to make one feel at ease, led to several lakeside visits.
"Several flights in Lynn E. Pickard's open cockpit, Waco biplane were exciting excursions in the early days of civilian aviation. At that time, takeoffs and landings were on a rough Maple Street field dotted with very tough stubborn clumps from a previous alfalfa planting. Lynn's determination later transformed it, and adjacent land, into Dansville's fine modern airport. Good fortune permitted me to be informed of his ultimate goal and the technique he devised to reach it.
"There were countless hours of discussion, research and writing with William Dunn Conklin, an area analytical historian without peer. These were educational and enjoyable indeed… just being with, and working alongside, the master. Our years of friendly association provide a host of cherished memories."
Wilfred J. Rauber was born in Dansville in 1907. He graduated from DCHS and later Alfred University. He was employed at the Dansville Post Office for 37 years, rising to the position of Superintendent of Mails before retiring in 1969. He was a long-time secretary of the Dansville Board of Trade (the forerunner to the Chamber of Commerce), and served for ten years on the Board of Education.
He was appointed Village and Town Historian in 1949, a position he held until 1986. Nobody, before of since, has done more to promote and preserve Dansville's historical legacy than Wilfred Rauber did in those years. He spent countless hours in gathering together the photographs and other artifacts that make up the North Dansville Historical Files in the North Dansville Town Hall. He was also a key figure in the formation of the Dansville Area Historical Society and in the acquisition of the old St. Patrick's rectory for use as a museum. In 1979, he was honored as Citizen of the Year by the Chamber of Commerce.
But more than anything else, he wrote. Over the decades, he wrote hundreds of articles on local history for the Dansville Breeze and Genesee Country Express, covering just about every facet of Dansville's rich history.  These humorous and well-written articles are a treasure trove of knowledge that would have otherwise fallen into obscurity — they are still well worth seeking out by local history buffs. He also launched the "Old Photo Album" feature which still runs in the Express. His journalistic efforts won him accolades from the New York Press Association which gave him an award in 1968 for Historical Series in a Newspaper.  His magnum opus was his privately printed 1980 book, D&M and DL & W – Putting Dansville on the Railroad Map . Twenty years after his passing, "Wutz" Rauber's name is still synonymous with Dansville history.
Grave Marker