(August 8, 1883 – December 1977)
Inducted 1995
Sometime around the year 1900, a pair of teenage brothers were spotted in a sheep's pasture on the outskirts of Dansville, trying to knock little balls into flowerpots with sticks…a game they picked up in college, but which was still largely unfamiliar to most ordinary folks. Within months, the local papers had taken note of the growing popularity of the game, and the owners of the Jackson Sanatorium, who saw the value to their patients of this not-overly-taxing outdoor activity, rushed in to take over what would soon be given the name "Brae Burn."
The boys were the Noyes brothers, Jansen and Nicholas, and no one could have imagined that, three-quarters of a century later, one of the lads who had introduced golf to Dansville would see his name on a million-dollar hospital, just a wedge shot away from the sheep's pasture in question.
The Noyes' family had been one of Dansville's most elite families practically from the day that Daniel W. Noyes (Nicholas' grandfather) arrived in town in 1849 to launch his law practice. Nicholas, born in Dansville in 1883, graduated from Cornell in 1906, married Marguerite Lilly in 1908, and joined the Eli Lilly pharmaceutical company in 1910, headquartered in Indianapolis, where he and his wife would live for most of their lives. He quickly rose in the company's ranks, becoming vice-president and director in 1913.
In addition to Eli Lilly, Noyes would become president of the Paper Package Company (1919-1947) and director of the Federal Reserve Bank of Chicago (1933-1951). Noyes would become one of the wealthiest people ever to have been born in Dansville; in his later years, he would be enormously generous with his money. Both his own Alma mater, Cornell, and that of his wife, Vassar, would receive generous contributions. A residence hall on the Vassar campus would be named after Nicholas' mother, Emma Hartman Noyes.
Nor was his hometown overlooked. He contributed generously to the Dansville Public Library, giving a memorial fund named after his father, Frederick W. Noyes. (Frederick was one of the key figures in the library's early history.) In 1949, he and his siblings donated the old family residence on Elizabeth Street to the Dansville Red Cross as a headquarters, in memory of their mother Emma Hartman.
But Noyes' most noteworthy contribution came in 1970 as Dansville was attempting to raise money for a new hospital building to replace the woefully overcrowded hospital on Main Street, He and Foster Wheeler both contributed $100,000 to the project. That date, they were the largest charitable contributions in Dansville history. His reaction on learning that the hospital would be named after him was (in a letter to attorney Helen Pratt): "I appreciate very greatly the thought of naming the hospital with my name, although I would much prefer that it not be identified just that way."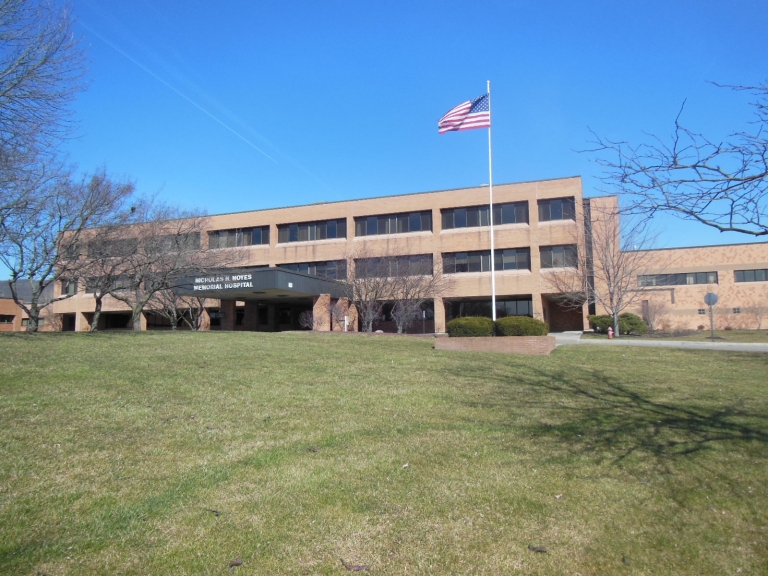 Nicholas Noyes died in 1977 at the age of 94. And he never lost his love of golf.
Link to Cornell University:  Nicholas H. Noyes '06 and Marguerite Lilly Noyes
2013 Donation from Nicholas H. Noyes Jr. Memorial Foundation
Grave Marker